This article is written by a guest writer, Sharon.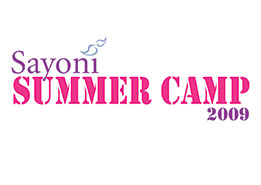 It took wagonloads of faith to know nothing about the camp and yet sign up for it. I had no idea where we were headed to (friends asked, 'how would we know where to extradite your body from then, be it if you drown during water activities or if you collapse from being at a lesbian camp.' My friends equate lesbian camp to sex orgy thingy.), what was the exact itinerary (gawd, please don't let them make us play school-ish telematch games nor do the 'oh this is how much potential you have in you, however please do feel real bad about yourself so you'd move your lazy ass' seminars), or who are the other 45 campers (45?! I barely want to get to know one new person per year in my personal life).
So why did I do it? Because it is the first ever camp for queer women after all. The advert did say 'series of meaningful and exciting activities, and make connections with others in an ideal exclusive location'. Which queer woman wouldn't want to make connections with others... in a series (!), in a meaningful and exciting manner (!), and at an ideal exclusive location (!!). No wonder places filled up quickly….
The campers came from all walks of life, across an age range of 18-40s (Editor's note: oldest person present was close to 50). There were bankers, students, engineers, bummers, researchers, test-tube washers (me), consultants and etc. Some previously knew about Sayoni, others didn't. Several came from beyond Singapore, a few came from way beyond. It was truly a diverse group, but very quickly that didn't matter. Like in the wild waterpolo matches, all that mattered was 'we are team, let's play!'. This spirit of 'team' spilled over to the workshops, late-night symposiums1 and stolen-moment gatherings.
The workshops were about self-development and growth, with a focus on encouraging self-exploration and understanding of our relationship with the world around us. In other words, the workshops were about 'who am I', 'who am I in relationships' and 'who am I in the community'. Messages from the workshops were delivered in various ways -- in detailed textual descriptions on screen, in patient comprehensive explanations by the speakers, in visually stunning pictures, videos and demonstrations, in lively open discussions from the audience, and in personal sharing of stories and opinions in small group discussions. Contrary to my expectation of the 2 to 3 hour-long workshops, I was never bored. Furthermore, I surprised myself that from each workshop, there was stuff for me to bring home to think a little more about. Even the more mature ones among us mentioned that they benefited from the workshops. Seems like it was 'milk' enough for the young 'uns and 'meat' enough for the toughies.
As quickly as 'team' surfaced from the diversity, the spirit of 'family' soon emerged by the 2nd day of the camp. You could say we played our way into each other's hearts. Waterpolo matches, meal times, BBQ dinner, late-night symposiums and even on the ferry back, these were all dear moments of playful fun, hearty laughter, good conversations, and explicit sharings, We found ourselves to be different yet so similar in our struggles, challenges, discrimination, hopes and dreams.
Just a word here about the camp conditions. I believe I echo the sentiments of many campers when I say it was good. The rooms were big and spacious, each one had a balcony with a view, the sheets were comfy and clean, toilets were clean and functioning properly, and even had toilet paper and paper towels all the time. (Yes, I am quite the fussy traveller.) Meals were buffet-style with at least 2 types of 'carbo' (rice, bread, noodles, or pasta), 3 kinds of meat, vegetables, a soup, a long dessert table, and the ever-essential coffee and tea. The resort was a good choice to have the camp. It had a big beautiful pool, a private dining area for all of us, a private beach, and an outdoor bar & grill place by the beach with a good sound system and even a place to dance. Schedule-wise, we had enough time for fun and workshops. There was also free time where we could choose to laze at the hotel or go down to town for shopping and a 2-hour massage. The organisers were also flexible in accommodating our request for more pool time in the sun. I was also impressed that it was relatively fast and painless from the point of meet-up and registration, getting our boarding passes, onto the ferry and 3-min bus transfer, to checking-in to our rooms.
In my business organisation, we are extremely customer-oriented. At the end of million-dollar projects, we give our clients a customer satisfaction survey to fill up and mail anonymously to our head office. On the survey form, clients can rate us on the scale of 1 to 5 where 1 is 'disappointed', 2 is 'does not meet expectations', 3 is 'meets my expectations', 4 is 'beyond my expectations' and 5 is 'delighted'.
This camper is delighted.
Notes
1. Symposium – (in ancient Greece and Rome) a convivial meeting, usually following a dinner, for drinking and intellectual conversation.