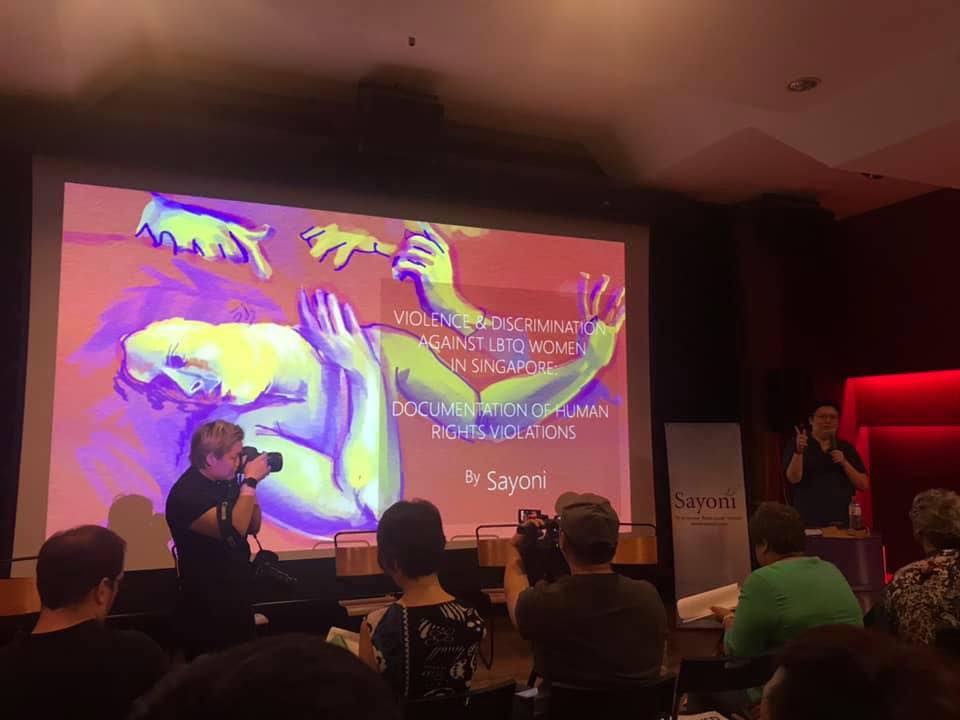 SINGAPORE, 24 May 2019 - Lesbian, bisexual, transgender and queer (LBTQ) rights group Sayoni has published a groundbreaking research study highlighting violence and discrimination against LBTQ women in Singapore, to be launched on 25 May.
Through a series of in-depth, face-to-face interviews with 40 participants, the qualitative study presents evidence of physical and emotional violence committed against LBTQ women in private and public spheres. Most participants did not report these incidents to the relevant authorities due to the fear of further stigma.
The first such systematic study on LBTQ women in Singapore, the book (entitled "Violence and Discrimination Against LBTQ Women in Singapore") sheds light on their lived realities as well as the invisibility of the problems faced, and recommends sensitive and responsive policy changes.
Some key findings from the book:
1. LBTQ women who came out or had their sexuality revealed experienced physical, psychological and sexual violence from the people closest to them - family members and intimate partners.
2. Both younger and older persons were vulnerable: Adults lived in fear of losing their jobs or homes if found out by homophobic employers or landlords, while younger people were in danger of losing financial support from their families. Younger people also experienced bullying in school if their gender presentation was not normative.
3. As purchasing and renting housing was challenging, some participants could not move out of their homes and were forced to live with abusive or risky family situations. Housing challenges for transgender individuals were pronounced.
4. LBTQ women had difficulty securing stable employment, particularly those who did not conform to gender stereotypes or did not pass as heterosexual. Transgender individuals were thus particularly vulnerable. Incidents of harassment and discrimination experienced by transgender individuals were not documented in company records. LBTQ employees in both the private and public sectors faced discrimination.
5. The societal stigma associated with sexuality further isolated LBTQ persons, impacting their mental health.
Despite these findings, incidents of violence and discrimination were not reported to the police, employers or other authorities for fear of further stigma. Individuals said that they blamed themselves and believed that reporting would not help them or change the situation.
Sayoni's co-founder Jean Chong said: "LBTQ persons' experiences of violence extend beyond the private sphere to the public domain in our streets and schools. Violence happens, whether exceptional or commonplace, and its effects on LBTQ adults and young people are devastating."
The study also observed ways in which LBTQ persons cope with their struggles, which largely comprised seeking help and support from friends and LBTQ social networks. Help from informal networks and friends could fail if those offering support were also dependants without resources. Employers were rarely supportive but were important sources of assistance when they were.
The research team proposes a series of measures to combat prevailing prejudices, assist victim-survivors and improve the social climate for LBTQ persons:
· Provide LBTQ-affirming sensitivity training for healthcare professionals and social workers
· Change housing, healthcare and education policies to recognise that LBTQ individuals are part of society
· Include information on sexual diversity and gender in school syllabuses and sexuality education
· Launch awareness-raising campaigns to educate the general population on LBTQ issues and sexual diversity
· Equalise censorship guidelines for heterosexual and homosexual content
The publication is the result of a qualitative study conducted by Sayoni, a feminist group that works to uphold equality and human rights protections for lesbian, bisexual and transgender women as well as transgender men. The group initiated this research as part of its advocacy for the United Nations' Convention on the Elimination of All Forms of Discrimination Against Women (CEDAW), ratified by the Singapore government in 1995.
At the launch event, members of the research team and expert panelist Jolene Tan discussed key findings and themes from the study, with an opening address from our keynote speaker Constance Singam, a veteran civil society activist. Sayoni also shared its policy recommendations and plans for advocacy based on the findings of this study.
As Ms Singam wrote in the book: "This is a call to action, one which I hope the authorities in particular will heed. Individually, we all have a role to play in bringing forward the day when LGBTQ persons, everywhere, are accepted and treated as equals. The time really has come."