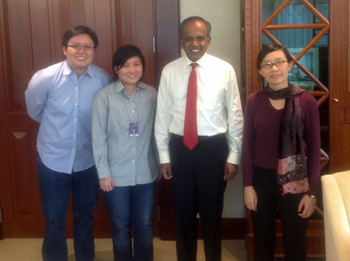 It all started on the 6th of October 2012 when, out of sheer frustration about the state of institutionalised discrimination against lesbian, gay, bisexual and transgender (LGBT) persons in Singapore, I left a note on the Facebook Page of the Minister for Law and Foreign Affairs, K Shanmugam.
I wrote of friends leaving and the National Conversation making no effort to remember that we are Singaporeans too. I highlighted our trip to the United Nations last year to present our shadow report detailing the kind of discrimination that the government so often denies. As I wrote, I got a little bolder and said that if LGBT citizens are not wanted, please tell us, so that we can all forget this struggle and move on to wherever we need to be.
Minister Shanmugam kindly replied, "There can be no suggestion that LGBT citizens are not wanted." The bigger question is, with the diverse viewpoints in our society and often held strongly by various groups, the government is often caught in the middle trying to decide what would be acceptable to the majority.
I replied by speaking about retaining laws like 377A, which in turn informs or influences policies, creating a cascading effect felt deeply by every LGBT person in Singapore. The exchange went on a few more times and Minister Shanmugam suggested that we meet for a proper chat for him to hear us more on the issues.