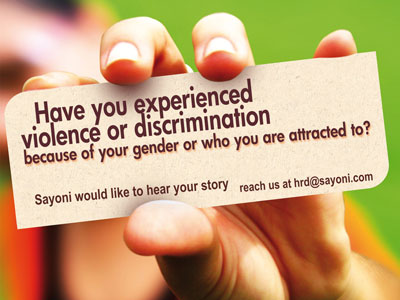 Have you been teased, bullied or physically locked up or harassed – because you are lesbian, bisexual, transgender, or queer in some other way? Have you had trouble in school, finding a job or flat, or getting the healthcare services you needed?

Some of us shrug off these daily discriminations as everyday happenings. Others have never spoken about the pain we have suffered. Authority figures can be cold and lack understanding of LBTQ people. Our family members may have turned our backs on us.

Do you have a story of your own to share?

Sayoni is conducting a study on LBTQ experiences of violence and discrimination in Singapore. We are looking for people who identify as women across the LBTQ spectrum who are willing to sit down with us to answer some questions. You should also be 18 and above and have lived in Singapore for more than a year.

Your participation is important to help people understand the real situation on the ground. It will drive Sayoni's advocacy work and shed light on the community's needs.

We will keep your data anonymous and do our utmost to protect the privacy of interviewees. To find out more about our study, please email us at hrd[at]sayoni.com.