Update: Tickets for this event are sold out! Thank you for your support. For those going, we hope the performance makes an impact.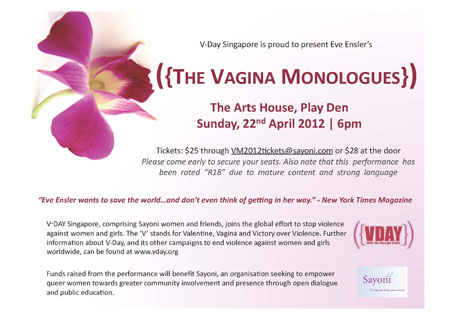 [Click here for bigger version]
V‑DAY Singapore presents Eve Ensler's The Vagina Monologues at the Singapore Arts House!

Comprising Sayoni and friends, V-Day Singapore joins the global effort to stop violence against women and girls. The 'V' stands for Valentine, Vagina and Victory over Violence. Further information about V-Day and its other campaigns to end violence against women and girls worldwide can be found at www.vday.org.
Date: 22 April (Sunday)
Venue: The Arts House, Play Den
Time: 6pm
Tickets: Through This email address is being protected from spambots. You need JavaScript enabled to view it. or at the door
Please note that this performance is rated 'R18' due to mature content and strong language.

The play will be performed by local women activists, not actors, in the spirit of the V-Day movement, and funds raised from the performance will benefit Sayoni's programmes to empower queer women towards greater community involvement and presence through open dialogue and public education.
What is V-Day? from V-Day Until the Violence Stops on Vimeo.