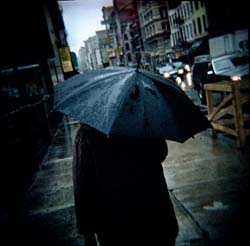 Coming out – Step 1: To myself.
Ok, that was the easiest step.
As easy as rain falling from the sky. Didn't have an umbrella, and even if I had one, I'm not sure I would have pulled it out.
Tomboy from 2 to say.. 17. Two older brothers, a sister who's 4 years younger. A kid's got to play, and I didn't want to be left apart, so I was the goalkeeper of all the improvised football (soccer) games in the backyard. Loved being with boys. Girls annoyed me: I always looked hyper-energetic with girls around, when I could easily blend in with boys – well at least as long as my body didn't get his feminine bells ringing yet. Boys were fun, athletic, I had a blast being with boys when I was a kid, loved to argue with them, sometimes fight, play, run around, or just sit around reading or doing nothing. Pretty hard to hang out with boys in a Muslim country, when you have 2 older brothers. But well, when I was a kid, I guess they believed it was cool, and innocent. Matter of fact, it was, so everybody was happy about it.
High school, still tomboy-ish. Felt in love with hip-hop, that certainly didn't help my girly side to come out, but love doesn't care about what people say, my wardrobe was packed with baggy jeans, Timberland boots, Nike Air Force Ones and hoodies, while my eardrums couldn't find enough time to listen to all the records I was piling up in my room. Wearing large clothes does help with the entering into the boys club. I was dressed like a boy, almost talked like one, and beside my "BFF", avoided as much as possible the girls in my class, in the school yard, during gym classes… If I had to pick a gym mate or a physics class mate, it had to be a boy. No boring giggling about boys, no boring never ending talks about make up or clothes, but instead, music, action movies, how girls can be stupid and of course my favorite of all time talks with boys back then: football.